Brands
Beach Warning Flags
Color swatches are only representative, and are not exact matches.
Beach Warning Flags
Our Beach Warning Flags are made of durable SolarMax nylon and are approximately 40"x30". Beach warning flags are for use of beach lifeguards to inform beach goers of the current water conditions
Durable beach warning flags made from premium SolarMax nylon to communicate water conditions.
Dimensions 1000 mm X 750 mm (Approx. 40" x 30")
Weather-resistant brass grommets on 3 corners - left side and top right.
Beach Warning Flag Color Legend:
Red: High Hazard or Water Closed to Public Flag
Yellow: Medium Hazard Flag
Green: Low Hazard Flag
Purple: Dangerous Marine Life Flag
There are no Reviews yet. Be the first to write one.
Diagonal Beach Warning Flag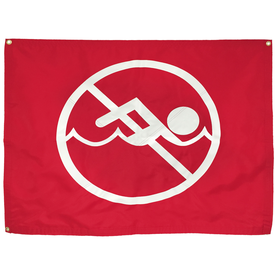 ---
---